By Claire Voon | Artsy
Somali-American Mariane Ibrahim is always thinking ahead. As a young dealer, she is enjoying a precocious, meteoric rise on the international art scene. She's built her reputation with a roster of trailblazing contemporary artists, predominantly from the African diaspora.
As an interviewee, Ibrahim anticipates questions, volunteering thoughts in frank soliloquies. We had just met at her namesake Chicago gallery when Ibrahim dove into her 2020 plans: major shows with portraitists Clotilde Jiménez and Amoako Boafo; fairs including ARCOmadrid and The Armory Show; and three trips to Africa—to Senegal, Ghana, and Somaliland. All this follows her closely watched move from Seattle last summer.
---
The Rise of the African Multinational Enterprise: The most authoritative book on private enterprise in Africa. Get a Copy from SPRINGER
---
"Things are going really fast—I feel like I'm running and running and running," Ibrahim said. "My ambition is to retrieve as many narratives of the post-Black era [as possible]." (The term "post-Black art" was coined by Studio Museum in Harlem director Thelma Golden and artist Glenn Ligon and, to Ibrahim, "revisits the notion of race and revokes any form of determinism.")This could sound, from anyone else, like a smooth sound bite or grandiose credo. But this has been Ibrahim's mission from the get-go.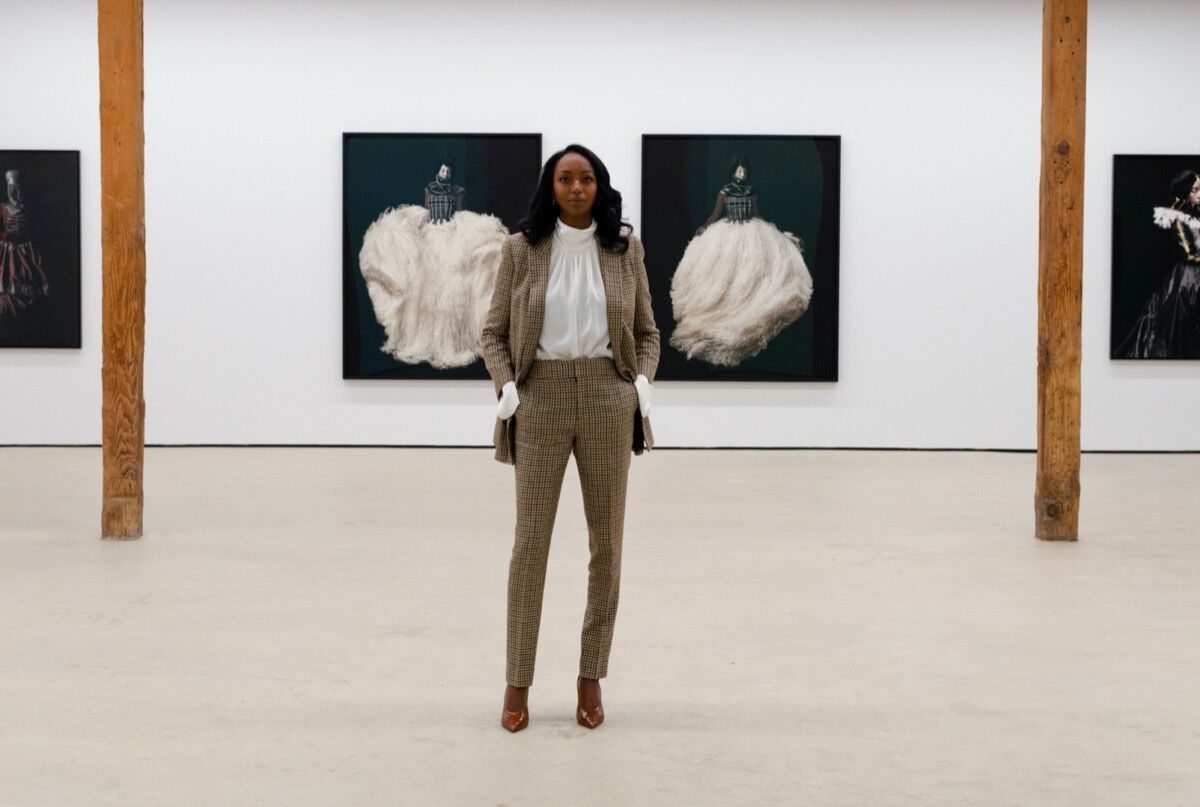 Since 2012, when she opened the doors of what was then M.I.A. gallery—an acronym for "Missing in Art" and her birth name, Mariane Ibrahim Abdi—Ibrahim has championed Black artists, often through solo shows. She introduced her programming with the late Malick Sidibé's exuberant photographs of Bamako life, but subsequent exhibitions have spotlit lesser-known names such as Senegalese painter Soly Cissé, French-Senegalese photographer Delphine Diallo, and German-Ghanaian multimedia artist Zohra Opoku.
An innovative presentation of Opoku's textiles and photographs at the 2017 Armory Show, in fact, won Ibrahim's booth a major prize and helped cement the dealer's art market stature. Her fair booths often sell out by the end of preview day; collectors were equally quick to acquire works at the gallery's first two Chicago exhibitions on Ayana V. Jackson and Florine Démosthène.
---
---
Such attention wasn't always familiar to Ibrahim, who entered the scene years before the mainstream market's long-overdue demand for Black art surged.
"I wouldn't have any visitors, sometimes for days, and I'd wait for the phone to ring…and it wouldn't ring," she said. "But I loved the routine of sitting in the tiny space and being surrounded with art."
She began calling African art curators at major museums to introduce her program. "I wanted to let them know that there is someone out there who is on the other side of the idea of Africanity," she said. In other words, Ibrahim aims to connect African art to a global art scene and break from museums' traditional, anthropological approach. She prefers a contemporary perspective.
"I wanted to push the art without making it exotic," she explained. "I can't just say, 'You know, these African people'…because it's me."
Ibrahim was born to Somali parents in the port city of Nouméa, the capital of New Caledonia. When she was five, her family returned to Somalia. In 1987, shortly before civil war broke out in the East African country, they relocated to France. Ibrahim recalled growing up in Bordeaux and absorbing the surrounding art in museums and châteaus. She questioned the accessibility of these bastions of Western culture.
"I've always been fascinated by the idea of those spaces. 'Am I allowed there? Does that place have a responsibility towards me?'" she asked. "I was disillusioned because I couldn't see much art that connected with me and where I come from."
Ibrahim eventually fell in love with another art form—advertising—and studied communications at Middlesex University in London. Upon graduating, she worked for a marketing agency in Paris, but quit when she felt unchallenged.
She left for a three-year stay in Somalia, where she created an NGO to help gain UNESCO World Heritage recognition for the ancient cave paintings of Laas Geel on the outskirts of Somaliland. Back in Paris, Ibrahim knew she wanted to help promote artists of African descent. Yet she never officially worked within the gallery circuit, as she felt estranged from spaces she encountered.
"I think I would have been molded into a type within a space I was not comfortable being in," she said. "I was actually looking for the anti-gallery experience."
Ibrahim struck out on her own. Two years after her husband's job with Boeing brought the couple to Seattle, the dealer founded M.I.A. She recalled: "The opening really came from an instinct of almost survival. I said, 'If I don't open that space and put in artists I'm craving, either it's not going to happen or somebody is going to do it for me.'"
With no partners, no business plan, and just $3,000, Ibrahim opened her gallery in a storefront that shared an entrance with a nail salon. 
The Stranger, Seattle's alt-biweekly, described her as "a charismatic young Somali Frenchwoman who seemed to come out of nowhere."Pam McClusky, the Seattle Art Museum's curator of African and Oceanic art, said that when she opened the gallery door for the first time, she felt "an unexpected jolt of intense visual finesse. Then there was Mariane, who is a model of cosmopolitan, internationally minded living and curating."
---
---
"The minute you met her, you met an artist by her side," McClusky added. "It did not matter that no one had heard their names; [Ibrahim] knew they deserved more attention, and her confidence was irresistible."
Like many dealers, Ibrahim uses Instagram to find young artists who excite her. But social media etiquette overwhelms her, and she often asks friends to follow artists on her behalf to avoid giving the artists false hope. Her curiosity doesn't always translate to an immediate desire to represent an artist. While Ibrahim does visit studios, she has realized that the best way to find an artist is through word-of-mouth.
"There's still a generous side of artists recommending artists," she said. Ibrahim's relationships with her gallery's artists are shaped by mutual respect, not authority. She speaks of the artists with pride, yet views them as peers with whom she hopes to grow old.
"For Florine, it was love at first sight," Ibrahim said of the Haitian-American artist, whose lambent figurative collages the gallery first showed at the 2019 Armory Show, on impulse. "I couldn't explain it. It was something female in me to want to take her and put her in a place where she will thrive."
The booth sold out. And on Jerrell Gibbs, the portraitist Ibrahim began representing in January, she expressed protectiveness: "He stresses me a lot because every time I have a painting, my heart starts to chase. It feels like it's part of you, and you're like, 'Who deserves this painting?'"
More than a dealer pursuing transactions, Ibrahim is a supportive coach for artists. When she finalizes a sale through text, she sends the buyer a celebratory GIF. She's also aware of the pressures that follow success—not only from fair cycles and sales, but also from the particular burdens Black artists face when working within a system built on centering whiteness: tokenization and patronization, expectations to make art about race or trauma, and improper contextualization of their work.
Ibrahim offers care and respect at every step. "We speak the same emotional language, we have the same cultural references, and that makes it easier to manage their careers," she said. "That makes it easier for them to communicate their desires and where they want to go."
She takes these responsibilities seriously. And while she admitted that the job scares her at times, she remembers to have fun as she continues what she described as her "marathon.""I feel comfortable—I don't think that I'm breaking the roof and touching the sky. I hope this phase will allow the gallery to expand its program and take artists to much higher levels," she said.She added, half-jokingly: "I think my mother still doesn't know what I do."
Read from source Artsy